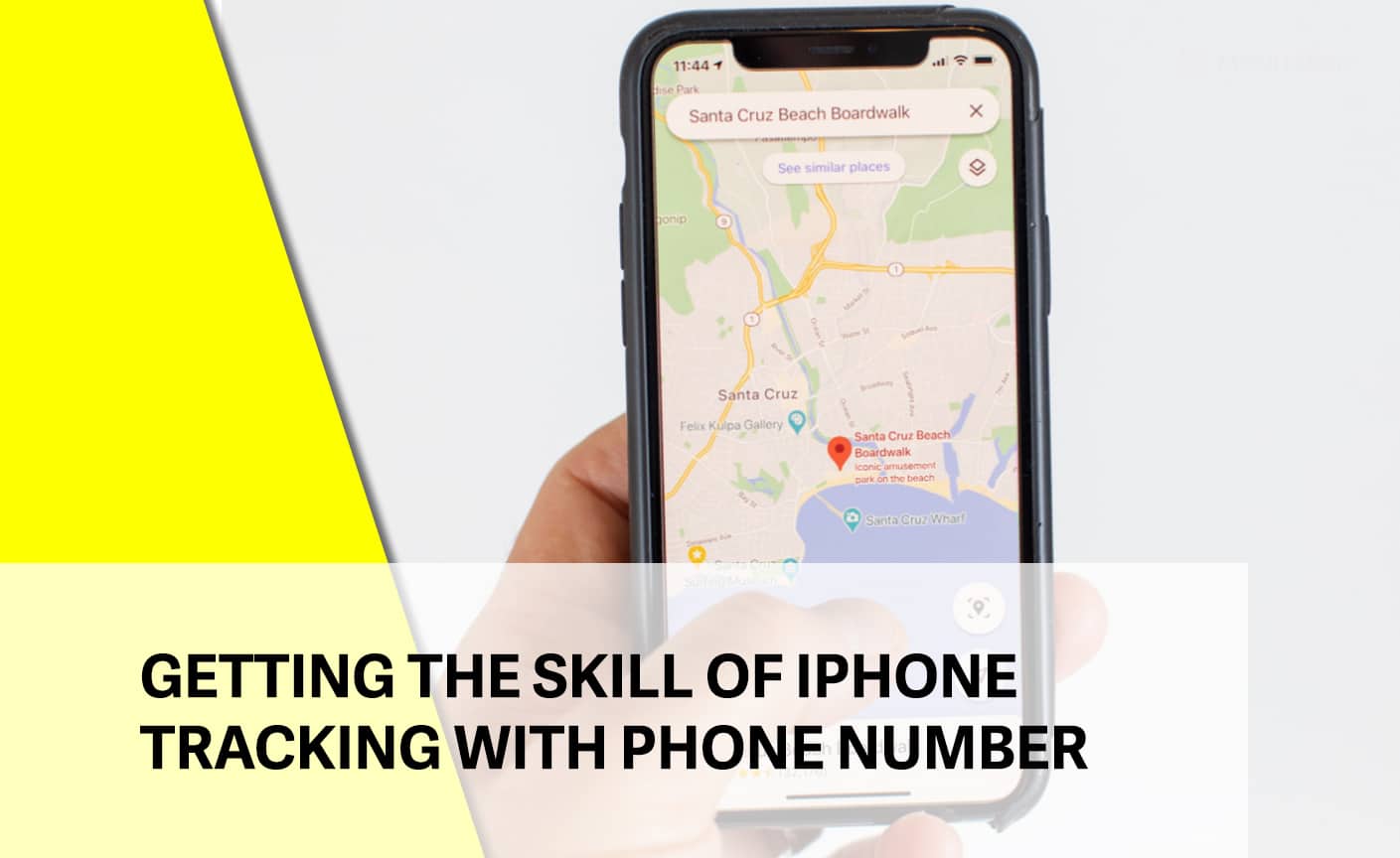 Imagine: there will be approximately 6.8 billion smartphone users worldwide in 2023. Each of those has a unique phone number connected to the particular person. In an era where smartphones are practically an extension of ourselves, losing a device or connection with beloved people can feel like losing a limb. Yet, here's the good news: you're not powerless! You can maintain the connection with the target device, no matter how far away you are from each other. So, don't waste time, let's dive into the exciting world of the ways how to track an iPhone by phone number.
Table Of Contents
Who Can Be Tracked?
Tracking Loved Ones
Is your child not picking up your calls? Did your spouse say they would be late, but it's 3 AM, and you can't sleep? Is your friend visiting another country, and you don't know where they are as they don't answer your messages? iPhone tracking by phone number might just give you the peace of mind you need.
Tracking Lost or Stolen iPhone
Ever had that panic attack when you can't find your iPhone when you simply hold it in your hand? Sounds like a joke to tell your friends. However, what if you would leave your phone in a taxi or someone pulls it out of your pocket during the bus ride? If your trusty sidekick is stolen or lost, iPhone tracking by phone number is your best bet.
Best Apps for Tracking iPhone by Phone Number
All those reasons are profound and can be such a frustrating event to happen. Thanks to modern technology and the apps it provides. There are some outstanding solutions to track a phone with its phone number, and we are going to share those solutions with you.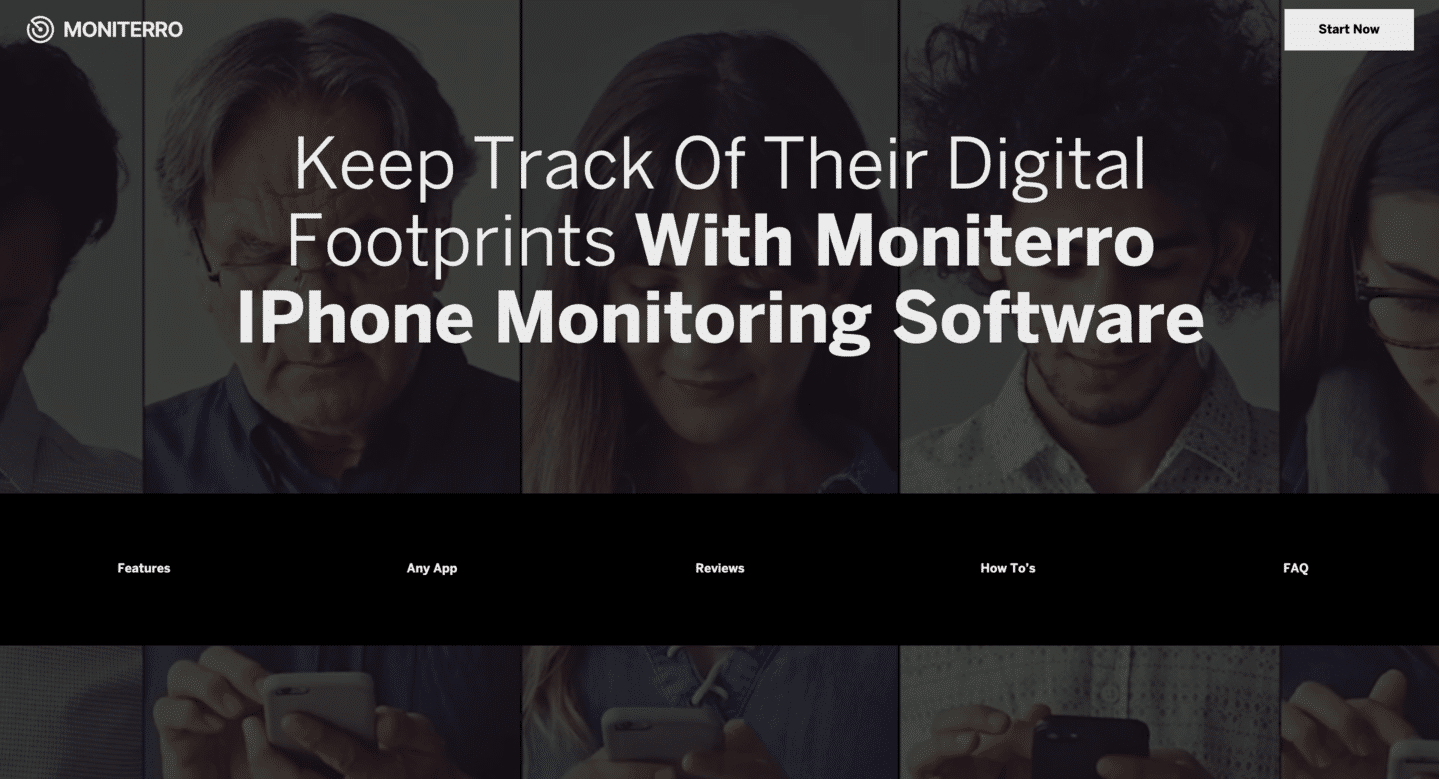 Moniterro is an all-encompassing tracking iPhone by number solution that leaves no stone unturned. It combines real-time location tracking, geofencing, and comprehensive call and browsing history monitoring. This powerful tool, designed for reliability and precision, is your 24/7 virtual detective.
Main Features
Real-time GPS location tracking
Geofencing for keeping an eye on specific zones
Browsing history and call logs monitoring
Social media tracking
Keylogger and screen recorder
So, you see, it is more than just a solution to track someone's phone! It is comprehensive software that allows keeping an eye on a target device. An excellent choice for those who want to protect their loved ones.
Price
Starting from €40.79/month, Moniterro is like having a personal detective without the trench coat and the magnifying glass who knows everything about tracking iPhone by number! The longer you want to use the service, the cheaper it will be for you. The quarterly price starts from €23.30/month, and a yearly subscription is just €9.71/month. You see, less than 10 euros for a month – and you have full access to the target phone's location and other useful features!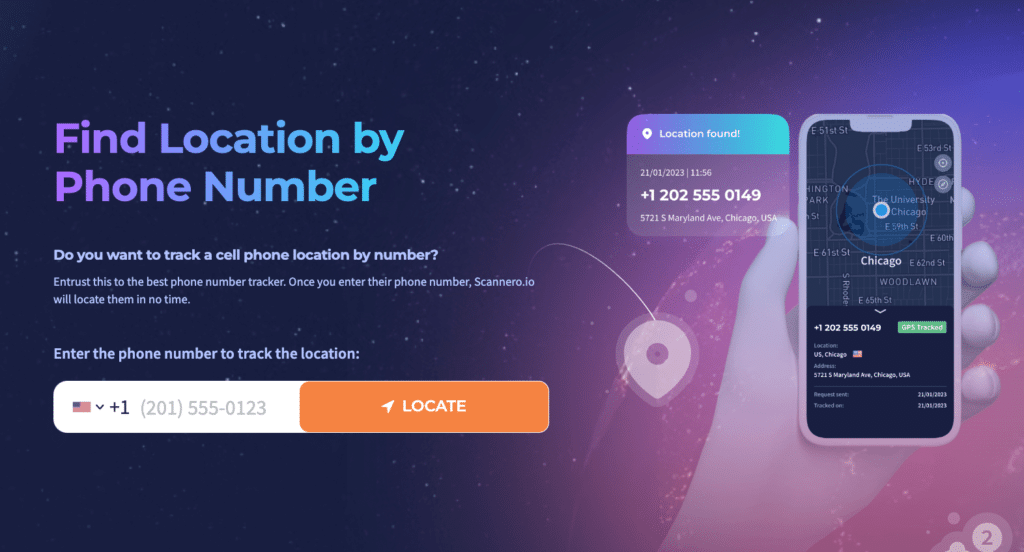 Scannero is a robust tracking iPhone by phone number tool designed for accuracy and efficiency. The tool serves as an all-in-one solution for finding, securing, and managing your iPhone. It is a perfect match for those whose priority is only location tracking. So, sit back, relax, and use the most precise and powerful solution for tracking.
Main Features
Locate by Number
Find My Phone
Phone Lookup
Name Lookup (Coming Soon!)
Price
Scannero offers its brilliant tracking iPhone with phone number services from €0.89. Imagine that, less than a euro!
Free Alternatives
Not ready to spend? Don't worry – even the best detectives started somewhere!
Try Using iCloud
iCloud offers a seamless, built-in solution for tracking your iPhone. By simply logging into your iCloud account, you can use the 'Find My' feature to locate your lost device. This free, user-friendly service also allows tracking someone's location. For that, you need the permission from the target person to see their location on the map. In case, you don't have one, tracking iPhone by phone number will be impossible.
iMapp
iMapp is a tool for tracking iPhones, offering the capability to monitor multiple devices simultaneously. It integrates seamlessly with iCloud and 'Find My, enhancing the scope of device tracking. iMapp is a free solution that is approximately the same as 'Find My.' Also, to use this app, you also need the permission from the target person.
FAQ
Can I track an iPhone by phone number?
Yes, with specialized apps like Moniterro and Scannero, this task becomes possible to complete.
Can someone hack into my iPhone with just my number?
The answer is yes, the SIM card is like the DNA of your phone – unique and revealing. And with the specifically designed software, it can be used for tracking. 
Is it legal to track an iPhone?
It is legal as long as you have the owner's consent, or it's your own device. Remember, with great power comes great responsibility.
Conclusion
Tracking an iPhone with a phone number may seem like it's straight out of a detective novel, but it's easier than you think. There are so many possible ways how to track an iPhone by number. With apps like Moniterro and Scannero, you can play the protagonist in your iPhone tracking story. Free solutions are also available, yet, they may not provide services of the same quality.